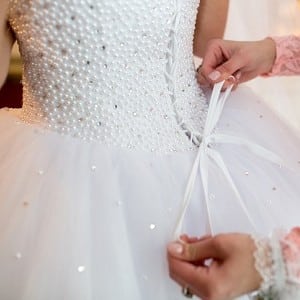 The list of "things to do" when planning a wedding seems to expand with every passing year. New trends appear and old one's disappear. But the one that is really important, will never disappear and is often overlooked in planning is where the bride and her support team will be getting ready on the wedding day. The last thing you want to be doing two weeks before the big day is stressing about where you and your bridesmaids will be getting beautified and dressed.
The family home may be too chaotic and not large enough. A hotel suite –unless it's a multiple room suite–generally contains too much furniture and might have two mirrors at best. The Church basement isn't going to cut it on this day and some Wedding Venues just don't have the space.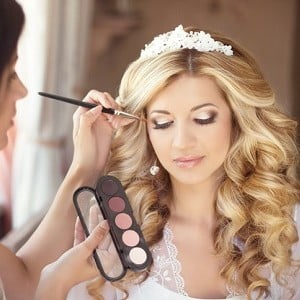 We get so many inquiries from brides about using an overnight guest room for wedding day preparation. This situation rarely works because of the sheer numbers and our check-in and check-out times. It typically requires renting the room for two nights and we cannot accommodate more than 2 bridesmaids along with the bride. By the time you add hair and make-up personnel, flower girl(s) and the mother of the bride–it's downright crowded even in our largest suite and not so much fun!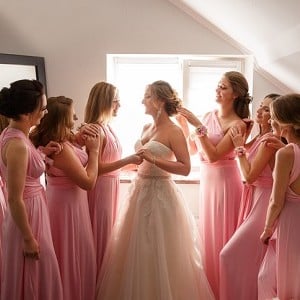 The Weller Haus solution is to rent our Event Venue for the day. We have 1800 square feet of space among three separate rooms for you to spread out. Our largest room, where we can set up 5ft. round tables, will easily accommodate the largest bridal party along with your hair and make-up team.
Our attached kitchen/bar area provides a space to stock cold beverages and set up food stations for the day. This area is completely out of the way of where you will be dressing-so no chance of spillage! Our upstairs lounge lets you take a quiet moment to breathe–or even catch a snooze if needed–and store everyone's bags out of the way. And along with all of this indoor space there's our relaxing garden and water features outdoors. What a better way to chill out than sitting on the pavillion, listening to your favorite playlist along with the sounds of nature and waterfalls.
Our Getting Ready Day Package ($495 plus tax) includes the following:
Use of Event Center and Outdoor Gardens starting at 8 am
Stay until you leave for your Wedding
TV's in all three rooms of the Event Center
Sound system for getting the party started
Wall hooks for hanging wedding attire along with additional hangers
Garment Steamer
Up to 12 "Getting Ready Day" robes for use while on premises.
Complimentary fruit and veggie trays as well as bottled water
Use of our outdoor gardens for Pre-Wedding/First Look Pictures. There is normally a $250 fee for photography on site. However, this is waived with a signed contract/agreement to provide Weller Haus with 10 high quality photo downloads along with permission to use them on our website and social media.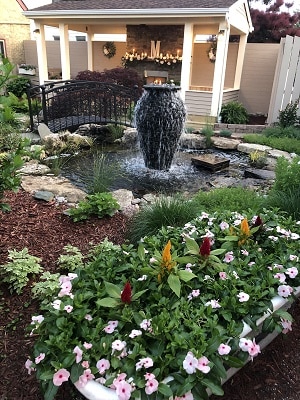 As you're planning your wedding, consider making your Getting Ready Day as important as many of the other decisions. You want to be comfortable, have an abundance of space and beautiful surroundings. Weller Haus Bed, Breakfast & Event Center offers all of this and more to brides on their Getting Ready Day.