If you're heading to Cincinnati this weekend from out of town or if you're a local, you will not be at a loss for entertainment in the area. While Spring starts the "festival season" that continues throughout the Summer, Memorial Day weekend brings the biggest food festival in the Cincinnati area and the longest running culinary arts festival in the US–the Taste of Cincinnati. At least once during it's history it was selected by Event Business News as "Event of the Year" from among 40,000 special events–so you know it's worthy of your time.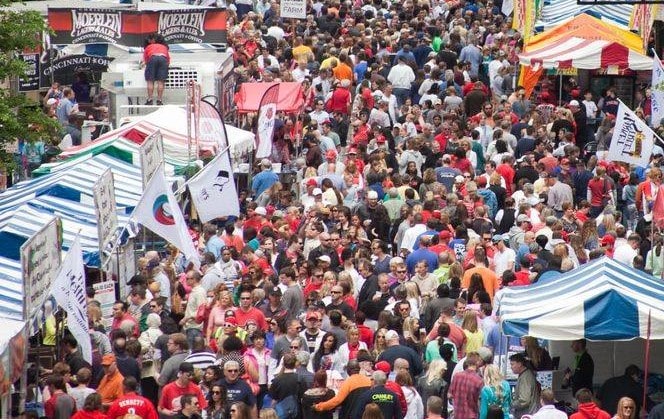 Started in 1979, the Taste of Cincinnati was the result of Karen Maier, Vice President of Marketing at the time, reading about The Taste of the Big Apple in a restaurant industry publication–the idea was formed, planning began and the rest is history. With just 5,000 attendees in the first year as a one-day event–and located at what is now Piatt Park (formerly Garfield Park)–the event continued to expand over time. In 1981, the event increased to two days and by 1988 became a three-day event that was moved to Central Parkway. One more move brought it to downtown Cincinnati after the $42 million renovation of Fountain Square was completed. The Taste located to Fifth Street to be closer to the cluster of downtown hotels and a new underground parking structure.
The current location encompasses four blocks of Fifth Street between Main and just east of Sentinel Street. Be prepared for huge crowds–attendance runs at about 550,000 visitors over the three-day event. Bring your appetite and decision-making skills as there is an overwhelming number of choices for food–approximately 250 dishes from 50 restaurants and food trucks. And finally, there's the entertainment from 50 local and national bands situated on various stages throughout the streets of downtown Cincinnati. If it's hot—the beer will be flowing!
You'll be able to choose from Italian, Mexican, American, Jamaican, Southern and Asian foods that include pizza, pasta, tacos, sliders, BBQ and sweets to name a few. The local and national recording artists will be playing country, dance, 70's, rock, blues, jazz and reggae music–so come get your groove on!
Bring your appetite, your dancing shoes and your wallet this weekend. There are no admissions fees but food dishes range from $3-8, entertainment is free as is the people watching! Hours are 11a-11p Friday and Saturday and 11a-9p on Sunday.
If you need a place to stay this weekend, call us and mention this blog and we'll give you 15% off any available room. We are within walking distance to downtown–or you can take the South Bank Shuttle for $1 or rent a RED BIKE from Bellevue and drop it at any Red Bike station in Northern Kentucky or downtown Cincinnati.
We hope to see you this weekend!